Want to use your Kinsa QuickScan thermometer without the Kinsa app? Setup is super easy, so let's get started.
Insert 2 AAA batteries (included) in the battery compartment, found on the back of the QuickScan.

Remove the 98.6° sticker from the face of the thermometer.

Click the button on the thermometer to turn it on.

When the message "APP" appears,

quickly

double-click the power button, similar to the speed of a double-click of a mouse.

Wait for 4 dashes to appear on the screen.

Hold the QuickScan about an inch from the center of the forehead.
An inch is about the size of a paperclip or the length of your thumb from the knuckle to the fingertip.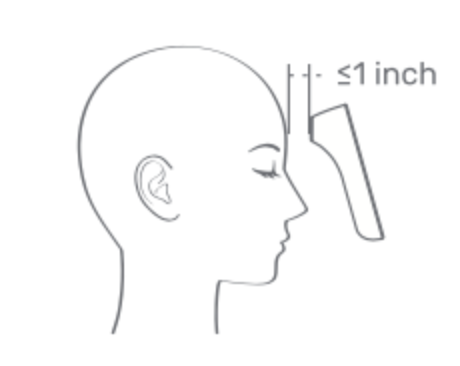 Click the button to take a reading.

Avoid holding the button, as this will power your thermometer off.

Wait for the beep - this should only take a second.
Voila! You've completed a temperature reading! Press and hold your QuickScan's button to turn it off. It will also power off after 45 seconds of inactivity.